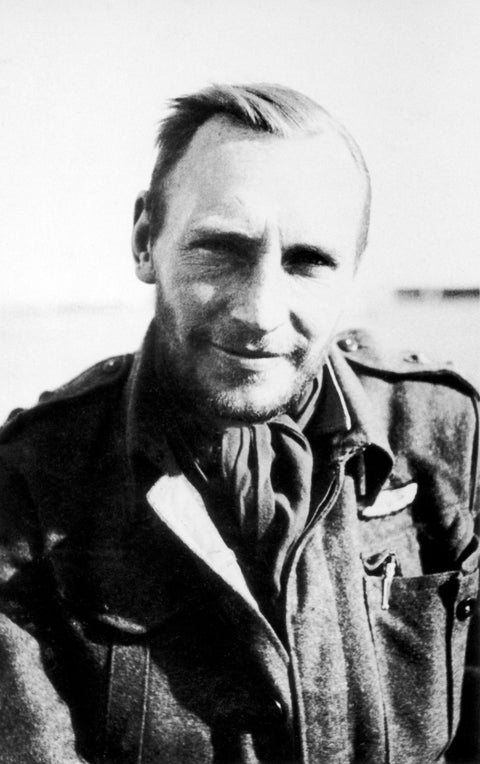 BBC 'SAS Rogue Heroes' Series Typecasts Blair 'Paddy' Mayne As A 'Drunk Irishman,' Says His Niece
The new hit BBC TV series, "SAS Rogue Heroes," has used Irish stereotypes to unfairly characterize World War II hero Lt.-Col. Robert Blair "Paddy" Mayne, according to his niece.
Fiona Ferguson, age 77, describes her uncle, who studied law at Queen's University Belfast before his wartime exploits, as "a very caring, loving man" who was fond of literature and writing, and was also known to family and his comrades as a kind person.
Instead, the native of Newtownards, Northern Ireland was portrayed in the show as "a drunk Irishman," Ferguson protested to The Telegraph. "There is no denying he did drink, but that wasn't him."
A Man of Letters
Recommended for you
Ferguson enjoyed a close relationship with her uncle. One of his last gifts to her before his tragic death in a car accident in 1955 at age 40 was to buy her a membership in a book club.
Mayne was controversially played in the BBC series by English actor Jack O'Connell, whose faux Northern Irish accent has met with criticism in Ireland. But there is something more problematic than yet another bad "screen" Irish accent at work here.
Drawing attention to the BBC series' portrayal of Mayne as a violent criminal, Ferguson said: "Blair was never in prison. Him fighting three military policemen never happened. The story was good enough without throwing stuff like that in."
Although, like many soldiers, Mayne could indeed be physically rowdy and enjoyed drinking with friends, his comrades attested to his intelligence, professionalism and gift for good leadership. He was also credited with great cool-headedness in crisis situations and administrative skills.
In the wake of his death, writers began to portray Mayne in an unfair light, according to Ferguson.
"I've had to live with it all my life," she said. "Ever since he died the stories about him were always embellished." She described Mayne's surviving siblings as "very annoyed" by this "rubbish."
Typical Irish Stereotypes
In the postwar era, what might fairly be called the "Paddy Mayne Myth" is a depiction of the Irish war hero as a recklessly violent, sullen man with a devilish temper, an over-fondness for alcohol and a knack for continuous brawling–essentially a thuggish "brawn" to fellow SAS pioneer David Stirling's "brains."
These stereotypes are nothing new or unusual—actually they mirror discriminatory tropes about Irish people that have existed for centuries. A recent exhibit at EPIC The Irish Emigration Museum, called "This Is Not Us," focused on this issue, which continues to affect people from both the Republic of Ireland and Northern Ireland. The Irish are commonly portrayed as alcoholics with a proclivity for violence.
The fact that Mayne was cast in this mold in the immediate aftermath of his death was probably no accident, historian Gavin Mortimer told HistoryNet in an exclusive interview.
The British Class System?
An expert on the SAS and Special Forces, Mortimer has raised hackles with his controversial new book, "The Phoney Major," in which he uses hard evidence to argue that Mayne and Stirling—revered in SAS lore like mutually supportive deities on par with Greek father-and-son gods Zeus and Apollo—were actually at odds with each other.
The unpretentious Irishman was a more competent leader of men than the aristocratic and well-connected Stirling, according to Mortimer. Yet, after Mayne's premature death, he writes, there was nothing to stop Stirling from using his money, heritage and advantages in class-conscious British society to cement his own place in history—by paving over his rival's legacy.
It's a bold argument, and one that has drawn no shortage of ire towards Mortimer from those who revere Stirling's legend. However Mortimer is armed with research and ready to defend his work. A few other historians have worked to draw attention to the prejudicial treatment Mayne has gotten over the years, including Hamish Ross and Damien Lewis. Their reassessments of Mayne's role in the SAS are long overdue.
Despite their efforts, the "drunken Irish" myth is still out there. Poignantly, it is something that Mayne himself seems have been aware of during his lifetime. "People think I'm a big, mad Irishman. But I'm not," Mayne reportedly told one of his comrades. "I calculate the risks for and against and then I have a go."
Mortimer suspects that part of the reason why the myth still prevails is lingering prejudice within some elements of the upper crust of British society, which continues to skew the historical record in favor of Stirling at the expense of Mayne. Of course, a popular show like "Rogue Heroes" repeating misleading depictions of Mayne doesn't help either.
"It's an ongoing battle, but it's one that I'm determined to keep fighting because Paddy Mayne was an exceptional man and he deserves better than to have his reputation thrashed," said Mortimer.