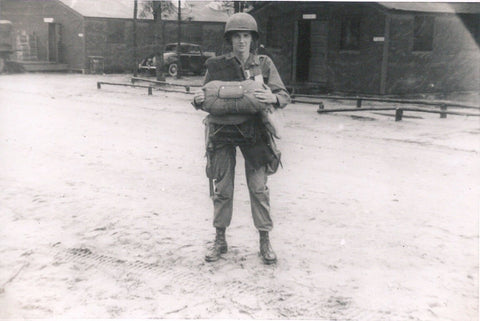 'Band of Brothers' Paratrooper Dead at 101
Celebrated paratrooper and World War II veteran Jim "Pee Wee" Martin died Sunday, according to his Facebook page.
Nicknamed "Pee Wee" for his short, waifish stature, Martin was one of the original "Toccoa Men" who were featured in Stephen Ambrose's "Band of Brothers" and later the popular HBO series of the same name. He was 101.
Martin, an Ohio native and member of the famed 101st Airborne Division, was among the first to parachute into Normandy near Saint-Come-du-Mont behind Utah Beach at 12:30 a.m. on D-Day. He saw combat from Operation Market Garden to the frigid landscapes of Bastogne Battle of the Bulge. He was one of the soldiers to take Adolf Hitler's mountaintop hideaway, the Eagle's Nest.
Martin seen with actor Damien Lewis on the shores of Normandy. (Jim "Pee Wee" Martin (G/506)/Facebook)
From Glory to a Quiet Life
By war's end, Martin had he received a Bronze Star, Purple Heart and European African Middle Eastern Service Medal for his service. He was also ready to come home.
His goal was to settle down and live a quiet life, he told the Dayton Daily News in a 2014 interview.
"I've been there and I've done that," Martin said. "All I cared about was getting a job to take care of my family and building a house on 50 acres and forgetting the world."
He bought a plot of land in Sugarcreek Township, Ohio, shortly after the war and lived there until his death on Sunday.
"The things and the places don't impress me," he said. "What impresses me, what I like, are the people that I know."
(Jim "Pee Wee" Martin (G/506)/Facebook)
A Final Letter to His Friends
In 2019, after Donna, his wife of nearly 73 years, died, Martin wrote his own epitaph of sorts and requested it be published at the time of his death.
The letter reads:
Friends ,
At the time I am writing this I have lived more than 97 years. When I was a boy, I could not have imagined living such a long life. You are reading this because I have recently passed on.
My interactions with those who view this page and with many others who I have met in person over these last years has brightened my later life more than I can tell you. The level of interest shown by younger generations in our wartime service has gladdened the hearts of my WWII generation. So many of you have worked in a variety of ways to ensure that the legacy and lessons of World War Two will not be forgotten. We old veterans are aware of it and we appreciate it. We know you will continue after all of us are gone.
I thank my family and friends for the support I have been given. Many friends have visited and made sure I was never lonely. At the time of Donna's passing, we had been married nearly 73 years. How fortunate I was to have her for so long.
I have been privileged to know a great many young people. As a result, I am confident in your futures.
As for the future of this Facebook page. Doug Barber is a (retired) history teacher and was my friend and traveling companion for many years. I leave it to his judgement as to how long the content of this page continues to serve a positive purpose now that I am gone.
Jim "Pee Wee" Martin