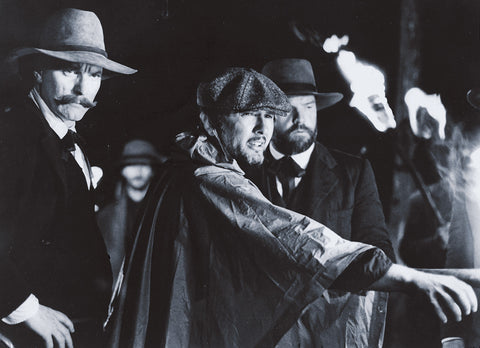 At Age 81, This Western Screenwriter-Director Isn't Slowing Down. Here's His Latest Project.
For a Hollywood director and screenwriter who came into the business around the time Westerns started to fade in popularity, Walter Hill has certainly made a name for himself in the genre, having received best director Emmy Awards for the pilot episode of HBO's Deadwood (2004) and the two-part miniseries Broken Trail (2006). Broken Trail also earned Hill a Western Heritage Award from the National Cowboy & Western Heritage Museum in Oklahoma City, as did his big-screen film Geronimo: An American Legend (1993).
The director of The Long Rider s (1980) and Wild Bill (1995) turned 81 on Jan. 20, 2023, but Hill isn't slowing down. In 2021 he wrapped work as screenwriter and director of the independently produced Western Dead for a Dollar , starring two-time Academy Award recipient Christoph Waltz. While filming near Santa Fe, Hill took time to discuss Western films and history with Wild West.
What brought you to Dead for a Dollar?
It's a script I'd been working on for about a year and a half, not c onstantly. There was a real historical character, Chris Madsen [a Denmark-born deputy U.S. marshal and one of Oklahoma Territory's "Three Guardsmen" with fellow lawmen Heck Thomas and Bill Tilghman].…I thought the idea of a European immigrant as protagonist [Waltz as bounty hunter Max Borlund] was a nice, off- center way of getting into a story. We're so used to the Joel McCrea, Randolph Scott, John Wayne Anglo kind of guy.
Yet you chose not to make it a Madsen biopic.
No. Madsen's intriguing, but the more I wrote, the less I pushed that idea. [Borlund] never was Chris Madsen. So I tried to give him his own point of view and distinct personality. Madsen was somewhat controversial.
How do you set about researching a film or character?
Reading Western history can be frustrating. A lot of it is incomplete, and an awful lot of it is contradictory. There's very little backup for most of it. [Authors] quote local newspapers, which were notorious, for most of it. Trying to piece together who was a good guy, who was a bad guy in these historical characters is, let me say, a rocky and narrow trail.
Do you enjoy history?
I like to read history. I was a history major and a lit minor. I cannot tell you I was a great student.
Talk about Jesse James and The Long Riders.
I tried to emphasize certain things—that it was a Midwestern story, not a Western story; that they were farm boys, not cowboys. Some of the stuff I thought worked very well in the movie. But I don't think it got to be a complete dramatic experience. David Carradine [as Cole Younger] was wonderful.
One of the best portrayals of Younger on film?
I really think so, yes.…The real Cole Younger wasn't a lot like David Carradine. I'd be the first to tell you that. Probably the closest to what he was really like was Jimmy Keach's Jesse.…He was a natural leader, and he was kind of crazy. They were all kind of afraid of him. When he said, "Let's ride," they rode.
What are your memories of filming Geronimo?
I have some complicated feelings about the movie.
I always said the title of the movie should have been The Geronimo War.
I wanted [viewers] to see the Army was a divided camp. In many ways the people who understood and were most sympathetic to the American Indians were members of the Army. Now, it wasn't universally true by any means. Some of the most savage opponents were affiliated with the Army. [Lieutenant Charles] Gatewood [portrayed by Jason Patric] is…as [scout Al] Sieber said of him. He's a sad case. He didn't hate the enemy, and he didn't love who he was fighting for.
I tried to use as much…of [Geronimo's] dialogue recorded by what seemed to be reasonable sources of that time. His purported autobiography I don't think is quite what the old man was thinking. But his last speech, on the train, which I wrote, was partially a cosmic understanding of the dilemma—that they weren't going to win, and Geronimo says their time has passed. He meant their time as a dominant force. That's not to in any way to forgive their treatment.
this article first appeared in wild west magazine