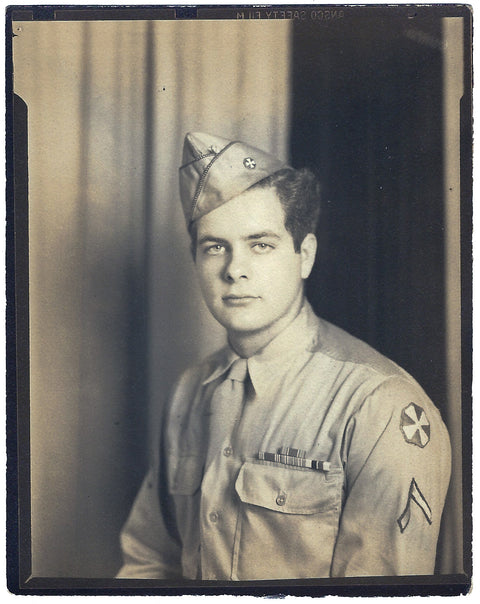 An American Medic Recovered This Rare Propaganda Booklet From Japan. It Celebrates the Japanese Conquest of Shanghai
I'm writing concerning Lilland Hamilton, former PFC U.S. Army, affectionately referred to as "Puppy" by his family. My understanding is that Puppy served as a medic in the Pacific, ending his enlistment in occupied Japan. While digging through his old stuff I found this picture book printed in Japanese and English. What is this?
—Jerry Loudermilk, Spencer, Oklahoma
A peculiar offshoot of war is the vast preponderance of souvenirs. While the idea of dismal and constant combat seems all-consuming, there was always plenty of downtime for soldiers and sailors. The collections at The National WWII Museum are filled with donated objects, such as a lavish booklet created for a walking tour of Rome, tiny photographs of Pacific islanders, and dozens of scalloped-edge postcards of the Eiffel Tower, each picked up by men and women visiting parts of the world they had never seen before.
This Japanese album is a similar memento of military service in a foreign land. However, it decidedly does not revel in the wonder of exploring new places. This propaganda piece, printed in Tokyo for Japanese civilians and victorious soldiers, commemorates the violent takeover of an ancient and vital port city in China.
In the years before the attack on Pearl Harbor brought the United States into World War II, Japan and China were embroiled in battles that many historians argue mark the true beginning of the war. The military leadership of Japan had the commercial and financial center of Shanghai in its sights since 1932. In 1937, the Battle of Shanghai represented the first of what would become 22 major battles between China's National Revolutionary Army and the invading Imperial Japanese Army.
The brutal urban fighting, which took place from August to November, is illustrated for the victors in this 64-page booklet entitled, Sino-Japanese Incident of 1937. Wholly uninterested in the city or its people, the images in the album celebrate only Japanese militarism and triumph, highlighting generals, showcasing achievement after achievement, its captions depicting "gallant" Japanese soldiers "at work" as they burn, blast, and bludgeon their way through the crumbling metropolis. While accurate numbers are difficult to confirm, well over 200,000 people died in the fighting, along with tens of thousands more who were wounded before the Japanese army finally routed the Chinese defenders.
This Japanese photo tour of Shanghai is markedly different than any "tourist" publication kept by American servicemen. While the piece does feature photographs of the ruined city's battered temples, rail stations, government buildings, monuments, airfields, and neighborhoods, there is usually a cadre of victorious Japanese soldiers in the foreground—excitedly cheering for the camera.
this article first appeared in world war II magazine