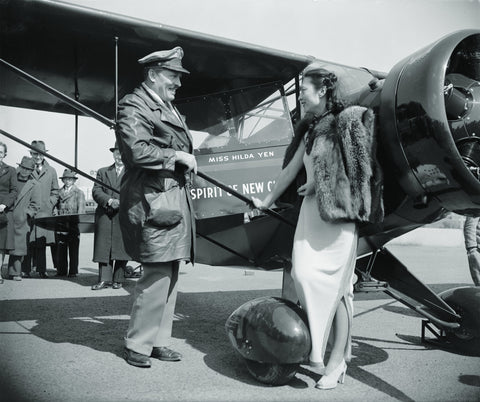 An Airplane for China
On April 3, 1939, famed aviator Roscoe Turner flew a red Porterfield 35-W monoplane to Washington, D.C., so he could present it to "Chinese aviatrix" Hilda Yen.
The Mississippi-born Turner was one of the world's most famous aviators in the years before World War II. He won the Thompson Trophy race three times and sometimes flew with Gilmore, a pet lion he named after one of his corporate sponsors. He was also known for his waxed mustache and eye-catching uniform, which he designed himself. "Flamboyant, colorful, unabashedly unrestrained in thought and deed, he was the one freelance pilot who not only survived a number of accidents and mishaps but managed to continue in the uncertain and dynamic business of aviation for his entire lifetime," wrote biographer Carroll V. Glines.
In 1939 Turner was in the midst of a short stint as vice president of the Porterfield Aircraft Corporation of Kansas City, Missouri. The company had begun production of the Porterfield 35 "Flyabout" in 1935. No doubt Turner — always a master of promotion — saw a way to gin up some publicity by donating a Flyabout to Hilda Yen.
Yen was a Chinese socialite, diplomat and pilot. Born in China in 1906, she attended Smith College and learned to fly after moving permanently to the United States in 1937. Then she embarked on flights around the country so she could speak out about the need to protect China from Japanese aggression. She was on one such flight in the Flyabout she had named "The Spirit of New China" on May 1, 1939, less than a month after Turner presented her with the airplane, when she crashed while taking off near Montgomery, Alabama. She was badly injured but survived. According to newspaper accounts, she said, "I would gladly die for the cause." After recovering, she resumed her efforts with another airplane. In 1944 Yen converted to the Bahá'í Faith religion and continued working for international peace. She died in 1970.
historynet magazines
Our 9 best-selling history titles feature in-depth storytelling and iconic imagery to engage and inform on the people, the wars, and the events that shaped America and the world.