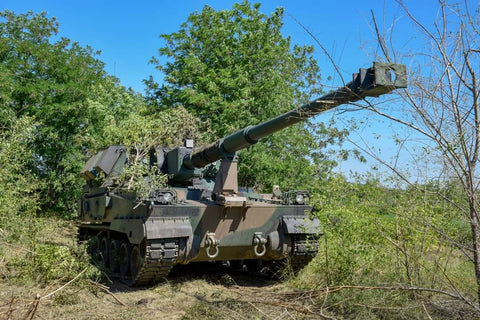 AHS Krab Howitzer: Poland's 'Frankenstein' Contribution to Ukraine
Since Russian President Vladimir Putin launched his "special military operation" on Feb. 24, 2022, it has become all too much of an artillery war, with massed formations of all the cannons and howitzers, old and new, the Russians can muster against all the advanced artillery designs the Ukrainians can produce or obtain from a wide variety of sympathetic Western powers.
In June, the Ukrainian government in Kyiv signed a $65 million contract with Poland for 72 Krab self-propelled howitzers, of which the first 18 have been "donated" and delivered and are taking their place along the embattled front. Formidable a weapon though it is, the Krab (the name means just what it sounds like in English) is unique in that it combines an international consortium of designs, integrated in one original, indigenously manufactured weapon.
Recommended for you
Origins of the AHS Krab
In 1997, Poland began development of a new generation of long-range SP howitzer with a North Atlantic Treaty Organization-compatible 52-caliber shell to replace its older, Soviet-designed weapons. Rather than reinvent the tracked chassis — which began by incorporating wheels and suspension from the PT-91 Twardy ("tough") tank, a Polish version of the Soviet T-72 — the Centrum Produkcji Wojstowej Huta Savlowa Wola (CPW- HSW) tested components from a wide array of foreign designs. Among those chosen for incorporation into the new weapon were the British-designed AS-90M Braveheart turret, with a WB Electronics Topaz artillery fire control system, the STX-MTU 8-cylinder water-cooled diesel engine with hydropneumatics suspension and the K9 chassis built by Techwin (now Nanwha Techwin) of South Korea.
Integration of these and these components began in 2000, though financial limitations delayed completion until 2002. By 2008, CPW-HSW had produced 80 Krabs out of a 122-vehicle production contract, but development continued even then as the original gun barrel was replaced by one produced by Nexter Systems of France in 2011. This was in turn replaced by a Rheinmetall barrel from Germany and a newer K9 chassis in 2016. In 2019, CPW-HSW announced that it was producing its own gun barrels.
AHS Krab Stats
Weighing in at 58 tons, the Krab is 39 feet, 6 inches overall and 11 feet, 10 inches wide. It can reach a maximum of 42 mph and has a maximum range of 250 miles. Each Krab holds 40 shells and 48 charges, which the five-man crew, aided by night vision and a laser rangefinder, can fire at a rate of three to six rounds per minute if necessary, or sustain a steady barrage at two shells per minute. Secondary armament consists of a 12.7 mm machine gun mounted atop the turret.
Few weapons have made so literal an attempt to find "the best of all worlds" combining so far-flung an array of components. As the first guns take their place opposite their older, simpler but more numerous Russian counterparts in eastern Ukraine, experts around the world should soon find out whether the Polish Frankenstein got his creature right this time around.
historynet magazines
Our 9 best-selling history titles feature in-depth storytelling and iconic imagery to engage and inform on the people, the wars, and the events that shaped America and the world.