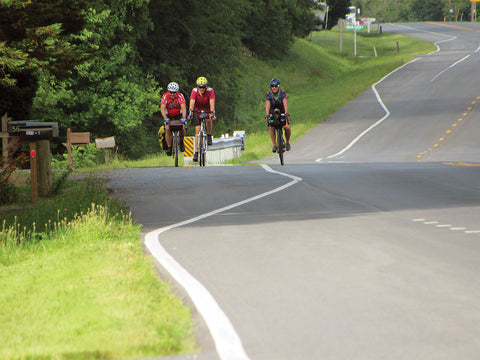 After Being Shown a Slave Collar, This Author Was Inspired to Cycle the Underground Railroad
The traces of the Underground Railroad hide in the open: a great church in Philadelphia; a humble old house backing up to the New Jersey Turnpike; an industrial outbuilding in Ohio. Over the course of four years, retired climate scientist and author David Goodrich rode his bicycle 3,000 miles to travel the routes of the Underground Railroad. On Freedom Road: Bicycle Explorations and Reckonings on the Underground Railroad covers his odyssey. It's a comprehensive and engaging look at the history of the places he stopped at along the way, but it's also a personal journal, documenting the journey of self-discovery both physical and emotional that happens on a bike ride of a lifetime.
What inspired you to write a book about the Underground Railroad?
I am a climate scientist and have written two books about that. I also like to ride my bike. While riding through the small town of Vandalia, Ill., I stopped at a museum and a woman there handed me a heavy brass ring and asked, "Do you know what this is? It's a slave collar." She said Vandalia had been a stop on the Underground Railroad, and that's what got my curiosity going, the idea that I was crossing this invisible river where people on the run were coming up from the South. The book is based on a couple of rides over a few years. On the Eastern ride I followed Harriet Tubman's route. She was enslaved in Cambridge, Md., and ultimately took her family to a little chapel in the town of St. Catharines, Ontario. That route took me through all kinds of familiar places that were not really very familiar to me—New York and Philadelphia. Almost like the undersides of cities, and where these formerly enslaved people were on the run.
The second part of the book is about riding from New Orleans, which was the predominant center of the slave trading market, to Lake Erie and a lot of the western routes of the Underground Railroad.
How was riding the route on a bike different than traveling it by car?
I thought that I could get closer to the experience of formerly enslaved people by being on a bike. A bike gives you the sense for the terrain. When I was riding along the Ohio River, I got the sense of how scary it could be for the formerly enslaved people, because the slave hunters were on both banks. But once you get up in the hills above the Ohio, there was shelter. There were Quaker towns, safe houses, and Underground Railroad houses. Being on a bike can give you some kind of a feeling of what these people were going through. Of course, I was also riding during the daytime, in safety, with Gore-Tex and nice gears and spokes. You also bump into people on the bike and conversations happen. There was once when I was coming up a real steep hill in Kentucky and I was watching a squall come across a field. A guy from a nearby house says to me, "Come on inside quick!" And he gave me a whole story about working in coal mines in Kentucky. Those kind of things happen.
this article first appeared in American history magazine
**What was it like for you to tackle the history of somebody so
mythologized as Harriet Tubman?**
What's interesting is that Harriet Tubman is very well-known now. She's going to be on the $20 bill! But at the time, she was a wraith. Quite intentionally she made herself as close to invisible as she could. She's a very tiny woman, but prodigiously strong. In one of her more famed escapes in Troy, N.Y., she disguises herself as the mother of the man she is trying to free. She gets into the marshall's office and grabs him and yells to this mob outside, "Come on! Let's get him!" And they manage to free him. At the time, the other conductors are amazed by her. She shows up in Philadelphia with another half dozen people that she's brought up through Maryland and Delaware. She has all kinds of ingenious escapes along the way, including one in Wilmington, Del., where she smuggles freedom seekers out past slave hunters in a wagon of bricks. It was very easy to find her route in Maryland and Delaware, but after Philadelphia it took a lot of research. And she took many routes. We have all these digital footprints today, and you can't go anywhere that somebody can't track you. But even now people in places that are known Underground Railroad safehouses may say, "We think she was here, but we don't know." There's this element even now that one of the most famous Americans is a ghost.
Did you have specific stories or sites you wanted to cover?
One of the references I found was a book in the Library of Congress by Charles Blockson, one of the eminent scholars of Black history. His book had a driving tour of Harriet Tubman sites. So, I thought, "Okay. This is where I need to go." Then there were particular places along the way, especially in upstate New York, Albany, the Myers Residence. We know that Harriet Tubman stayed there. In Peterboro, N.Y., there's the National Abolition Hall of Fame built around Gerrit Smith, a prominent sponsor of the Underground Railroad and of John Brown's Harpers Ferry raid. It was fascinating to talk to the people who are keeping that history alive.
What was it like to tackle such a difficult subject matter as slavery?
You have to approach it with a certain amount of humility, especially from an old white guy looking at this subject. You have to be careful talking about the Underground Railroad. Best estimates are about 20,000 people traveled it to freedom, but when you compare it with the number of enslaved who were moved in the forced transport from the Upper South of Maryland, Virginia, and North Carolina, the old tobacco plantations, to the cotton industry in the Deep South, there is a huge migration that takes place, on the order of a million people. There are places right around Washington, D.C., that are the center of this—for example in Alexandria, Va., the Franklin and Armfield firm, which some refer to as the Amazon of slave trading. People would be marched down the Shenandoah Valley, through Tennessee and onto the Natchez Trace and you can still see the signs of that.
One of the visuals we picked for the cover of the book is a photograph of the Old Trace from Nashville, Tenn., to Natchez, Miss., and it's like a U-cut through the forest. There were thousands and thousands of chained feet that made that trek. I was riding the Natchez Trace Parkway, which is a beautiful road, and off to the side you see stretches of the Old Trace and you realize that those were people's chained feet that formed that cut. So, the history bumps right up against you.
**It's not just a history book. It's a travel journal. Tell us a little
about the journey.**
Well, I've done a lot of long-distance bike rides, and you get into a certain rhythm. People say it must be really hard, and because we have all our gear on the bike, it's a pretty heavy load. I tell people, I have a job where I only have to work five hours a day. If I do 12 miles an hour and I ride for five hours, I have my 60 miles for the day. I would try to map out those days and end up someplace interesting.
A day's ride is almost independent of the weather. Big electrical storms, yes, you need to get out of those. But otherwise, big winds, and heat, you have to ride through it. Some of the most interesting riding is in urban areas you know pretty well. Coming out of Philadelphia into New Jersey, there's a huge suspension bridge. Bridges are windy and that was a lot different to ride on a bike than in a car. Also—the places you hear bad things about, you find out they're not necessarily true. I had heard all kinds of bad things about Camden, N.J. It had a high murder rate, but it has changed a bit. It may not have fancy bike paths and such, but once again, we met people along the way, that wanted to help us on our way.
historynet magazines
Our 9 best-selling history titles feature in-depth storytelling and iconic imagery to engage and inform on the people, the wars, and the events that shaped America and the world.