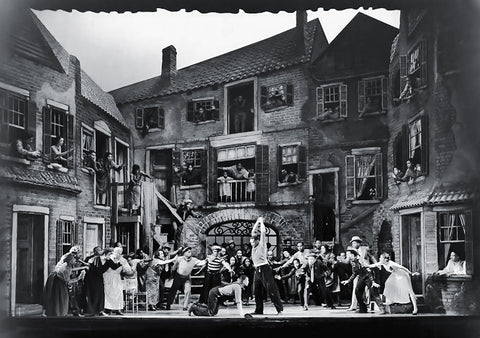 African American Theater Performers Turned Stereotype Upside Down
In the first years of the 20th century, despite the humiliating constraints of social segregation, thousands of African Americans made a living in show business. In Washington, Baltimore, Philadelphia, and Manhattan's Harlem, there were top-tier vaudeville houses that headlined Black acts for Black audiences, and the Theaters Owners Booking Association signed up Black acts for almost 100 smaller venues around the country that catered to Black audiences. There were night spots like the Cotton Club in Harlem that for White audiences mounted lavish all-Black musical revues and Harlem theaters for full-scale Black musicals.
But the pinnacle was Broadway. As early as 1900, there were all-Black musicals there, but the concept really took off after the Eubie Blake–Nobel Sissle musical Shuffle Along opened in 1921 and ran an astonishing 504 performances. Producers sensed that the high stepping and raucous humor associated with Black performers were a money maker, and over the next decade 22 more all-Black shows opened on Broadway. These shows slotted the Black performers into stereotypical roles of shuffling gait and slurred speech, but they also opened the door for dozens of performers to have lifelong careers that eventually allowed them more dignity.
The money woes of the Great Depression of the 1930s made it tough to find backers for any Broadway shows, and the Shuffle Along type minstrelsy all- Black show virtually disappeared. But by then, two important corners had been turned: top-billed performers such as Paul Robson and Ethel Waters had moved out of the racial show business ghetto to earn star billing in otherwise White shows, and the classic American operas Porgy and Bess and Four Saints in Three Acts had opened on Broadway, giving African Americans roles as complex three-dimensional human beings.
Ada Overton Walker was the first Black female star of Broadway musicals, creating a sensation singing Miss Hannah from Savannah in Sons of Ham in 1900. Primarily known for dancing, she brought a grace to the cakewalk dance that had been a derivative of slave culture and turned it into a fad among elite White society.
Singer Bert Williams and dancer George Walker joined forces in 1893 and became a hot commodity in vaudeville. They made their Broadway debut in 1899. Light-skinned Williams had to appear darkened with cork, but he became America's first Black superstar.
Ethel Waters projected two persona in her 1920s and 1930s Broadway performances: the resilient warm-hearted Mammy and the sexy exotic from the Tropics. She carved out a 60-year career that included a best actress award from the New York Drama Critics and nominations for an Oscar and an Emmy. The New York Public Library, Photographic Services & Permissions, Room 103, 476 Fifth Avenue, New York, NY 10018; 212-930-0091, fax: 212-930-0533, email: permissions@nypl.org. Using an image from The New York Public Library for publication without payment of use fees and official written permission is strictly prohibited.
Composer Eubie Blake and lyricist Noble Sissle's 1921 musical Shuffle Along raised the bar artistically and financially for Black musicals. Both men appeared in the show that included the first Broadway love song sung by a Black couple.
Adelaide Hall made her Broadway debut at 12 as a bridesmaid in 1913's My Little Friend. Her 1927 wordless recording of Duke Ellington's Creole Love Song was the beginning of scat singing. She moved to Europe in 1934 after opposition to her purchase of a home in all-White Larchmont, N.Y.
The 1921 cast of Runnin' Wild, including Elisabeth Welch, center. Welch appeared in dozens of London's West End musicals from 1933 until Pippin in 1973, and did much television in the 1950s and 1960s.
Valaida Snow broke into public acclaim in the 1924 Blake–Sissle show Chocolate Dandies. She sang and danced, but her distinctive talent was playing a hot trumpet. Her greatest triumphs were abroad, touring the Far East and Europe fronting an all-girl jazz band.
this article first appeared in Military History magazine
Josephine Baker parlayed an unmatched talent for self-promotion into lasting fame as the personification of Jazz Age Parisian hedonism. Her rhythmic dancing won her paying gigs in her home town of St. Louis while still a preteen, and at 13 she ran away and joined a Black girls' troupe. She fought racial discrimination and renounced her U.S. citizenship. She received the Croix de Guerre for her wartime spy efforts collecting information on German activities.
A selection of playbills for Black Broadway shows. Called "the most ambitious effort yet attempted by a colored company," Shoo-Fly Regiment took the real story of a regiment of Tuskegee Institute students who fought in the Spanish-American War and turned it into a farce based in the Philippines.
The only Broadway appearance for pianist Thomas "Fats" Waller was 1928's Keep Shufflin', but it opened new avenues for him. His most lasting legacy: composing such songs as Áin't Misbehavin' and Honeysuckle Rose.
Elisabeth Welch introduced The Charleston in a 1923 musical. She garnered a Tony nomination at age 82 when she returned to Broadway in 1986.
Louis Armstrong's trumpet solo in Hot Chocolates was so galvanizing that the producers had him come up and perform on stage and add a gravelly vocal rendition. By the 1950s, he was a widely loved musical icon and kept performing until his health gave out in 1968.
Bert Williams was booked by Florenz Ziegfeld to appear in the 1910 edition of his annual Follies extravaganzas over the objections of the other performers, as Whites had never before shared a Broadway stage with an African American. When Williams died in 1922, he had sold more records than any other Black artist.
Bill "Bojangles" Robinson tap-danced his way to more than $2 million in earnings. With Shirley Temple in The Little Colonel in 1935, he became the first African American to appear in the movies dancing with a White partner. But styles changed, and he died penniless in 1949.
In 1976, Alberta Hunter was 81 when she signed on for a two-week appearance singing blues at a Greenwich Village night club. She stayed six years, cut three albums for Columbia, and had a command appearance at the White House. It was her second tour in the spotlight. From her start in Chicago, she inched up to appearances in Europe and then a Broadway debut in 1930. She toured for the USO in World War II and the Korean War. In 1957 she quit abruptly and went into nursing. She returned to show business only after a hospital declared her too old to work.
Edith Wilson was one of the first African Americans to cut records for a major label, Columbia. She then became a vocalist with big bands, and wowed a crowd at the Newport Jazz Festival in 1980, a year before her death at 81.
Loretta Mary Aiken had been raped and had borne two children by age 14. She ran away from her North Carolina home and played in vaudeville under the name Jackie "Moms" Mabley. White audiences caught on to her raucous humor, and by the late 1960s she had played Carnegie Hall and was showcased on top TV variety shows.
Mae Barnes' swinging singing was a 1940s and 1950s fixture of the chic boites around Manhattan.
The 1929 cast of Hot Chocolates. Fats Waller wrote the score.
Ford Lee Washington (left) and John William Sublett's Buck & Bubbles act played the Palace in Manhattan while in their teens. Washington was the first Black guest on the Tonight Show.
Mantan Moreland parlayed a bug-eyed, always-scared Black man parody—today seen as a demeaning caricature—into a lucrative career. He moved from Broadway to Hollywood, appearing in 133 films.
This story appeared in the 2023 Autumn issue of American History magazine.
historynet magazines
Our 9 best-selling history titles feature in-depth storytelling and iconic imagery to engage and inform on the people, the wars, and the events that shaped America and the world.