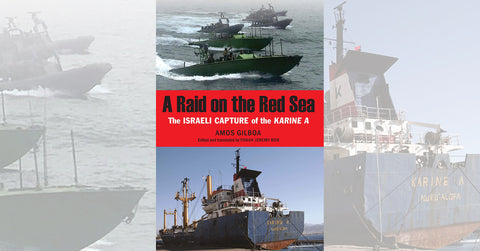 'A Raid on the Red Sea' Book Review: Israeli Commandos Intercept an Arms Cache Destined for Terrorists
A Raid on the Red Sea: The Israeli Capture of the Karine A, by Amos Gilboa, edited and translated by Yonah Jeremy Bob, Potomac Books, Lincoln, Neb., 2021, $34.95
In the early morning hours of Jan. 3, 2002, a team of Israeli navy commandos boarded the Palestinian-owned merchant ship Karine A and seized a 50-ton cache of arms that had been provided by Iran and Hezbollah, loaded aboard in Yemen and slated for terrorists in Gaza. Backed by combat helicopters and aircraft, the Israeli team executed its daring raid in the Red Sea, some 130 miles south of the Gulf of Aqaba, far from any friendly bases of operation.
The most spectacular and successful Israeli clandestine operation into foreign territory since the 1976 hostage-rescue mission at Entebbe Airport in Uganda, the Red Sea raid proved far more than just a setback to terrorist attacks against Israel. The arms-smuggling operations had been organized and financed by the highest levels of the Palestinian Authority, the Iranian government and the Lebanon-based Hezbollah. Its failure and the resulting international exposure struck a damaging blow to perceptions—particularly by the United States government—of the Palestinian Authority as a force for peace in the Middle East.
The raid itself marked the culmination of an intelligence/counterintelligence duel rivaling the most convoluted spy novels of such writers as Len Deighton or John le Carré. A Raid on the Red Sea reveals how Yasser Arafat and co-conspirators from Gaza, Lebanon and Iran conceived and executed a plan to smuggle the arms into Gaza by ship utilizing watertight containers deposited offshore and then towed ashore by small fishing boats. Author Amos Gilboa then relates how Israeli naval intelligence uncovered the plan, identified the ship and tracked it from the Persian Gulf to the Red Sea. He then outlines the Israeli navy operation to successfully intercept the ship at night hundreds of miles from their support base. The resulting narrative is a true-life technothriller worthy of any work of fiction on the best seller lists.
—Robert Guttman
The Israeli Capture of the Karine A
By Amos Gailboa
This post contains affiliate links. If you buy something through our site, we might earn a commission.