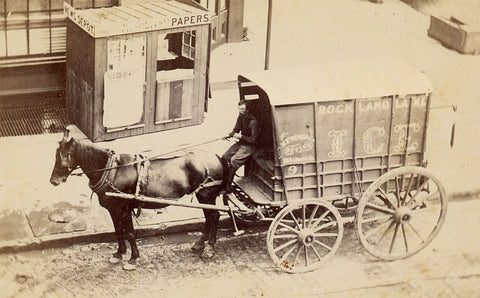 A Previous Ice Age
Want some ice for your drink? All you need to do is go to your refrigerator, or at worst buy a bag at your nearby gas station. But in the 19th century, people who lived in large cities had to pay for frozen water.
New York City was the nation's largest consumer of ice along the east coast, and by the 1850s residents bought 285,000 tons of ice a year. The best ice, it was believed, came from Rockland Lake, a spring-fed lake about two hours away from Wall Street on the west bank of the Hudson River where it widens into the Tappan Zee.
Ice harvesting on the lake began in January, when the ice was about a foot thick. A horse-drawn plow cut the ice into blocks about two feet by three feet. The blocks were stored in enormous icehouses, 350 feet long, 100 feet wide and 50 feet high, located at the northeast corner of the lake. The icehouses boasted walls insulated with sawdust and stored more than 50,000 tons of ice that stayed frozen until it was needed in the warmer months. Then the ice was sent by railroad cars and Hudson River barges to New York City.
Once it arrived, the ice was placed in icehouses all over the city and distributed to customers, up to 80 tons a week, via ice wagons, like the one in this rare image. Note the driver has stopped next to something that is now becoming as rare as an ice wagon, a sidewalk newspaper stand.
historynet magazines
Our 9 best-selling history titles feature in-depth storytelling and iconic imagery to engage and inform on the people, the wars, and the events that shaped America and the world.