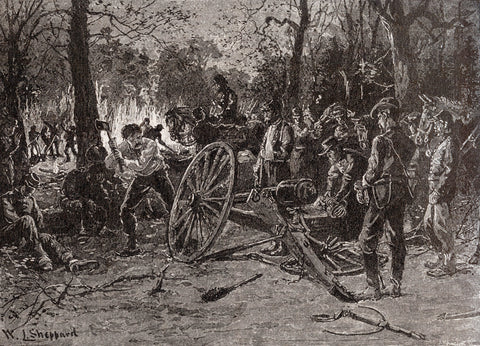 A Confederate Artist's Intimate Look at the Southern War Effort
If you are familiar with Francis Trevelyan Miller's Photographic History of the Civil War, you're aware that wartime photographs were not published until shortly before 1911, when that monumental 10-volume work came out.
That explains why, when in the mid-1880s Richard Watson Gilder and Clarence Clough Buel conceived a multipart series on the war for Century Magazine, they turned to renowned illustrators such as Edwin Forbes, Theodore Davis, the Waud brothers…
…and William L. Sheppard.
Born in Richmond in 1833, Sheppard joined the Richmond Howitzers and rose to lieutenant. After the war he resumed his art career, drawing for Harper's Weekly, Frank Leslie's Illustrated, and other magazines.
Among other works, his drawings are found in James Longstreet's From Manassas to Appomattox (1896), Joseph Derry's Story of the Confederate States (1895), and Carlton McCarthy's Detailed Minutiae of Soldier Life in the Army of Northern Virginia, 1861-1865 (1882).
Most of us, however, know Sheppard's work from Battles and Leaders— more than a dozen drawings.
"It is probably safe to say, there is no one who studies the American Civil War who has not seen the initials 'W.L.S.,'" wrote Ulrich Troubetzoy in an appreciation that appeared in the December 1962 issue of Civil War Times Illustrated.
Sheppard was also a watercolorist. Iconic images depict a Confederate infantryman, cavalryman, and artilleryman, as Sheppard remembered them through the years. (Note that many of Sheppard's Rebels sport goatees, which was the hirsute adornment the artist himself adopted postwar.)
Other watercolors are today to be seen in Richmond's American Civil War Museum, among them: "Opening Spring Campaign in Valley of Virginia"; "Newspapers in the Trenches '64"; and "Company Q. Stragglers." The Virginia Museum of History and Culture, also in Richmond, holds a unique collection of Sheppard illustrated cartes-de-visite.
Sheppard made Richmond his home after the war. He died in 1912 and is buried in Hollywood Cemetery.
Among his most noted achievements was his design for the oft-pictured statue to the Richmond Howitzers that was cast by Caspar Buberl. It stood at Park Avenue and Harrison Street in the Virginia capital until torn down during citywide protests in 2020.
It may be gone, but as Ms. Troubetzoy wrote decades ago, "W.L.S." will be initials on illustrations that Civil War enthusiasts will be recognizing for years more to come.
---
After General Robert E. Lee met Union Lt. Gen. Ulysses S. Grant in Wilmer McLean's parlor to surrender the Army of Northern Virginia at Appomattox, word quickly spread through the Confederate ranks. Lee was met with an emotional reunion with his men when he returned to the lines afterward. "General," some men cried, "are we surrendered?" Sheppard recorded Lee's return in an on-the-spot sketch from which this Century Magazine engraving was made. It was later included in the Battles and Leaders of the Civil War series.
Sheppard's "Counting the Scars in the Colors" ran in Battles and Leaders alongside a personal account of the first day of the Battle of Gettysburg by E.P. Halsted, Brevet Major and Assistant Adjutant General of the U.S. Army of Volunteers. "The advantages of position were, perhaps, favorable to us, but in numbers the enemy was vastly superior," Halsted recalled.
When cheering erupted in one of Lee's Army of Northern Virginia camps, soldiers quipped that it must be "Old Jack" (i.e., Stonewall Jackson) or a rabbit. Here, in Sheppard's "A Rabbit in a Confederate Camp," starving Confederates chase down a hare for food. Sheppard's drawings helped illustrate not just battle lines and action, but the everyday realities of soldiers in camp.
Sheppard's illustrations were also printed on cartes-de-visite and sold in sets of 10, each card with a different scene from the war. This one depicts Confederates in camp in 1861 enjoying the company of guests and a fine meal served by an African American. The title was "Good Times 1861," noting that the spoils didn't last.
"Distributing Tracts in the Trenches" appeared in Joseph T. Derry's Story of the Confederate States. Its distinctly pro-Southern perspective is shown by such statements as Derry's claim that "the Confederate soldiers….fought only for home and loved ones and the liberty of the South."
"The 29th Pennsylvania Forming Line of Battle on Culp's Hill at 10 a.m., July 3" ran in Battles and Leaders of the Civil War, accompanying Union Brig. Gen. Henry Hunt's article, "The Third Day at Gettysburg." During the Battle of Gettysburg, the 29th lost 14 killed and 3 mortally wounded, including Sgt. Maj. Charles H. Letford. Wounded by a shell in the abdomen, he died July 3.
Stonewall Jackson's renowned flank march during the May 1863 Battle of Chancellorsville allowed Southern troops to storm and overwhelm Maj. Gen. O.O. Howard's 11th Corps. Sheppard catches the moment of surprise in "The Confederates Charging Howard's Breastworks" which ran in the Battles and Leaders of the Civil War series.
In June 1864, during the Atlanta Campaign, the armies of Generals Sherman and Johnston hunkered in trenches near Kennesaw Mountain amid skirmishing and cannonading. When a Northern shell landed in a Confederate trench, Sergeant Isaac Collier of the 5th Georgia picked up the smoking shell and threw it out of the ditch. The tale of Collier's bravery made it into Southern newspapers and the postwar literature, inspiring this Sheppard drawing.
"Last Shot. Sailor's Creek" appeared in Carlton McCarthy's Detailed Minutiae of Soldier Life in the Army of Northern Virginia. During the war, McCarthy (1847-1936) served in the Richmond Howitzers. In the 1870s, he wrote sketches of soldier life for the Southern Historical Society Papers, a monthly magazine published in Richmond. From them he assembled Detailed Minutiae, which appeared in 1882. It carries 29 images, all by Sheppard.
Confederates abandoned Richmond on April 2, 1865. Two days later, Lincoln traveled up the James River by steamer and landed ashore. Riding into the city, the president was cheered by citizens—mostly newly freed slaves, as shown here in Sheppard's "President Lincoln Leaving the Davis Mansion." This illustration also ran in the Battles and Leaders series.
This article first appeared in America's Civil War magazine
Stephen Davis, an ACW Advisory Board member, writes from Cumming, Ga. He is co-author, with Bill Hendrick, of The Atlanta Daily Intelligencer Covers the Civil War (University of Tennessee Press, 2022).