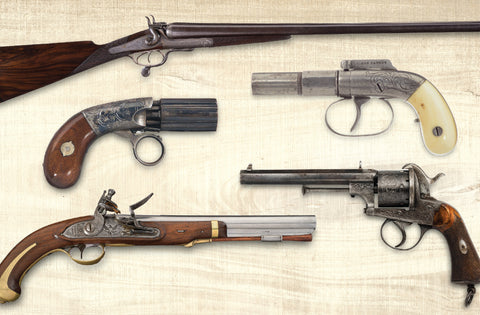 8 Handy Firearms to Have Out West
1–3. A pistol, a rifle and a shotgun
If you regularly read Wild West , you know better than to expect a rote list of Colts, Winchesters and Remingtons. That said, nearly everyone headed west craved a good pistol, rifle and shotgun. Between 1850 and '60 the Colt revolver had an especially notable impact on the frontier experience, as did the Winchester rifle between 1870 and '80. But in life-or-death situations, lesser-known guns could be no less critical. Following are five such pieces.
---
4. A 10-inch rifled pistol
From 1810 through '40—the era of the mountain man, the Santa Fe trade and the single-shot muzzleloader—a rifled pistol with barrel about 10 inches long—could well be a lifesaver. It was short and light enough so that a frontier dweller could carry two or, if he chose, even three or four. Four pistols, providing their owner with four fast shots before he had to reload, could deliver enough firepower to counter most threats. Moreover, the rifling made the pistol nearly as accurate as a rifled long arm. "With such a pistol," civil engineer Newton Bosworth wrote in an 1846 treatise, "using both hands, I have never thought it a great matter to take a [prairie] chicken at the distance of 70 or 80 yards and have frequently done it at 100."
---
5. Blunt & Syms six-shot dragoon pepperbox
Throughout the 1840s and '50s the principal American makers of multibarreled pepperbox pistols were Ethan Allen and Blunt & Syms. Their products became widely popular, especially in California during the gold rush. While each turned out a .36-caliber "dragoon size" pepperbox, in a now-or-never situation the Blunt & Syms had the edge. As tests show, its trigger pull is smoother than that of Allen's, and the B&S pistol fires the bottom barrel instead of the top, making it easier to stay on target during fast shooting.
---
6. A bar-hammer single-shot pocket pistol
In 1837 Ethan Allen patented a single-shot .28-caliber pocket pistol with a double-action, or "self-cocking," trigger mechanism. Fitted with a top-mounted "bar hammer" (vs. a side hammer), the arm became so popular that at least four other gunmakers—Blunt & Syms, Bacon, Manhattan and Marston—turned out versions of it. Its light weight, double-action trigger and smooth contours, with nothing to snag on the pocket or belt, meant it could be drawn and fired in an instant. Henry Deringer's pistols, despite their reputation, could not make the same claim. As with other single-shot pistols, users typically carried the bar hammer guns in pairs.
---
7. An extra-large-bore shotgun
In the late 1850s, when Memphis was an eastern terminus for the Butterfield Overland Mail, a major hardware dealer there, Lownes, Orgill & Co., was selling what it billed as "double duck guns," with "fine laminated steel barrels—6 to 8 bore, 34 to 40 inches long." On another occasion the firm advertised duck guns in "7 to 18 gage [ sic ]." Guns of 6 and 7 gauge (equivalent to .92 and .87 caliber, respectively, while the standard 12 gauge is .73 caliber) could throw heavy charges of .31- or .36-caliber balls—murderous at close range. When used with the popular Eley wire cartridge, a single discharge could be deadly at ranges approaching 100 yards, even against multiple assailants.
---
8. Lefaucheux 12 mm pinfire revolver
As early as 1859 firearms dealers in California and New Orleans were importing models of this revolver from France. Seemingly taking note, the Union imported more than 12,000 Lefaucheux during the Civil War, a federal inspector pronouncing it "a first-class arm, equal if not superior to the Colt." It was shorter and handier than the typical big-bore percussion revolver, while its copper-cased, self-contained pin-fire cartridges made it far faster to reload.
this article first appeared in wild west magazine