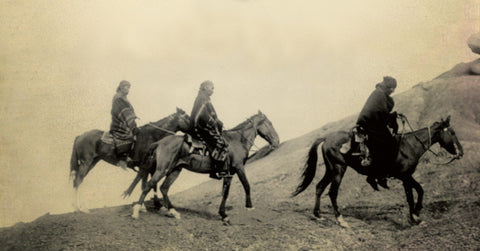 5 GOOD BOOKS WITH NEW MEXICO TIES
In each print edition of Wild West we tie the lead reviews to the cover story. For the Autumn 2022 issue that meant finding a passel of books and films relating to Billy the Kid or his adopted New Mexico (a territory at the time, as the "Land of Enchantment" didn't gain statehood until Jan. 6, 1912, more than 30 years after Billy met his end at the muzzle of Sheriff Pat Garrett's gun in Fort Sumner). New Mexico native author and Wild West contributor Melody Groves was up to the challenge, and below is her list of books with a New Mexico angle. Forgive our inclusion of a few works of fiction with a contemporary setting, but historical and cultural references make them worthwhile reads. Let us know if we missed any. WW
Got something stuck
in your craw, or do you
just feel like jawing?
Shoot us an email at
wildwest@historynet.com.
Be sure to include
your name and hometown.
Marianas- Knight-Book-Jacket
Mariana's Knight (2017, by W. Michael Farmer)
Beautifully written and based on a real-life murder mystery, this novel follows the February 1896 disappearance of well-known New Mexico attorney Albert Jennings Fountain and his 8-year-old son, Henry. Ambushed on Chalk Hill near White Sands, father and son vanished, leaving nothing behind but a blood- soaked buckboard wagon. Author Farmer takes speculation one step further—what if Henry survived? Other novels in his Legends of the Desert series include Knight of the Tiger and Blood-Soaked Earth.
Spider-Womans-Daughter-Book-Jacket
Spider Woman's Daughter (2013, Anne Hillerman)
This first Leaphorn & Chee mystery novel, written by the late Tony Hillerman's daughter, Anne, derives its title from American Indian legends. The story is set in the Four Corners, where Arizona, New Mexico, Utah and Colorado meet, an area encompassing 500 Indian tribes on 318 reservations. The novel won a 2014 Spur Award from Western Writers of America and landed on The New York Times Best Seller list. Spider Woman's Daughter , a reviewer wrote in the on-
line New York Journal of Books , "continues the Hillerman tradition, providing likable heroes against despicable villains coming together in unusual and intriguing situations in a glorious, little-understood world."
Blood-and- Thunder-Book-Jacket
Blood and Thunder (2006, by Hampton Sides)
n Sides' retelling trapper, scout and soldier Kit Carson understands and respects the Western Indian tribes better than most, yet he must follow orders and participate in the final devastation of the Navajo nation. Richly detailed and spanning more than 30 years of history, the narrative captures the West as it really was. The dusty town of Santa Fe is the epicenter around which swirl politicians, government officials and military. Sides sweeps the reader along, telling stories with intimacy and immediacy. It reads as if he were there.
Hi-Lo-Country- Book-Jacket
The Hi-Lo Country (1961, by Max Evans)
Evans considered northeastern New Mexico, where it borders Oklahoma, Colorado and Texas, Hi-Lo Country. Growing up in that area as a young artist, Evans used the land as the setting for his best-known writings. At the center of this tale set after World War II is the story of friendship between two men, their mutual love of a woman and their commitment to the harsh, dry high- desert grassland. The Hi-Lo Country was adapted into a 1998 film starring Woody Harrelson, Billy Crudup and Patricia Arquette.
Milagro-Beanfield-War-Book-Jacket
The Milagro Beanfield War (1974, by John Nichols)
The first volume of a New Mexico trilogy, this novel is set in the early 1970s in fictitious Milagro, N.M. Recurring themes of water rights and developer vs. small farmer lead this story. Milagro farmer Joe Mondragon sets off the conflict when he illegally irrigates his beanfield. "I learned so much about New Mexico," says one recent "Land of Enchantment" transplant of reading the novel. The writer's sense of humor and love for northern New Mexico are manifest. A film based on the novel and directed by Robert Redford was released in 1988.
this article first appeared in wild west magazine
Facebook @WildWestMagazine | Twitter @WildWestMag