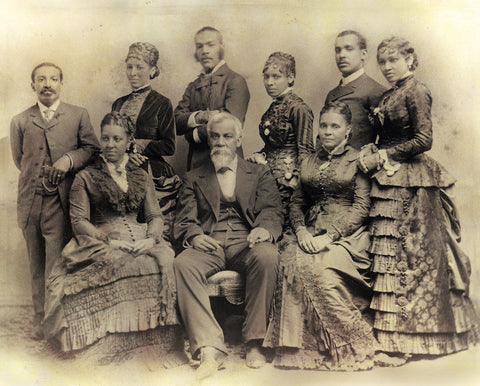 19th Century Black Success Story: The Dowlings Family
A wonder of the New World, the vast oyster beds supported by the great estuaries of the mid-Atlantic shore allowed free Blacks—and fugitive slaves—to carve out less-surveilled lives as self-employed watermen. These aquatic entrepreneurs included Thomas Downing, born in Chincoteague, Virginia, in 1791 to parents who were freed after their owner converted to Methodism ("Rehearsal for Rebellion," June 2022). At 21, Thomas headed north, first to Philadelphia and then to Manhattan.
The New York diet so celebrated the oyster that locals called shellfish- bearing outcroppings in the harbor Great Oyster Island and Little Oyster Island, later renamed Liberty Island, site of the Statue of Liberty, and Ellis Island, scene of immigrant processing. Downing started out oystering, but soon showed a landward entrepreneurial streak, establishing an elegant Manhattan oyster bar that elite Whites came to favor. His establishment, at Broad Street and Wall, faced the New York Stock Exchange, guaranteeing a stream of customers preferring to gulp oysters in a setting more lavish than the rough cellars in which most workers washed down their oysters with beer. Though remarkably well known as a restaurateur and caterer, Downing pursued another career to which he was equally committed: civil rights activist. He and his son George became unusually prominent and prosperous—and also emerged as unstinting advocates for the abolition of slavery and the equality of Blacks and Whites.
In 1836, Thomas Downing cofounded the Antislavery Society in New York City, and in the damp cellar where he stored shellfish he sometimes harbored fugitive slaves. In 1836, he presented a 20' long, 620-signature petition to legislators in Albany asking that New York State grant voting rights to all "without distinction of color."
Masses of Mollusks. Thomas Downing packed oysters into stoneware crocks that bore the Broad Street address of his establishment. (National museum of African American History & Culture)
The gesture failed. Downing founded schools for Blacks in New York City, also trying but failing to get New Haven, Connecticut, to permit a college for Blacks to open there. He was among many Blacks to challenge segregation as practiced on streetcars in New York City, and one of two confrontations over that matter left him with cuts to his ears and a badly bruised and swollen leg. He could be prickly, refusing in 1860, after the U.S. Supreme Court's Dred Scott decision declaring Blacks to be non-citizens, to tell a census-taker his real estate's value, noting that property could not own property. Nonetheless, Downing managed to balance activism, enterprise, and generosity, and is credited with quietly loaning his White customer Gordon Thomas Bennett, publisher of the New York Herald , money to keep Bennett's paper running.
Thomas Downing died in 1866, and obituaries nationwide celebrated his equanimity, dignity, and industry. Black abolitionist Martin Delany described him: "Benevolent, kind, and liberal minded, his head was always willing, his heart ready, and his hands open to give." New York's Chamber of Commerce closed for a day in his honor.
Downing and his wife had five children. One, George Thomas, developed an even bolder profile than his father in business as well as in activism. He attended one of a handful of African Free Schools in Manhattan and, at age 14, created a discussion group on how to improve Blacks' lives. Attending Hamilton College in upstate New York, he met his future wife, Serena DeGrasse, enrolled at a female seminary nearby. Their wedding in 1841 joined the Downing family to another of distinctive pedigree: one DeGrasse ancestor was an immigrant from India who arrived as adopted son of Revolutionary War Admiral Comte François Joseph Paul DeGrasse; another was Abraham Van Salee, one of two sons of a Dutch seafarer turned Moroccan admiral. Likely born to an African woman, the young men emigrated to New Amsterdam around 1630. Anthony, the younger son, tangled with locals and was exiled to Brooklyn, where he was an early settler.
In 1850, with his father, George Downing formed the Committee of 13 to oppose the seizure of escaped slaves under the Fugitive Slave Law. By then, George had extended his father's business into Providence and Newport, Rhode Island. Around 1855 George built a resort that—despite a suspected arson—helped Newport's nascent tourist trade take root and flourish.
George Downing counted among his friends and correspondents abolitionists Frederick Douglass, Martin Delany, Gerritt Smith, and U.S. Senator Charles Sumner. A year after John Brown was hanged, Downing sponsored a commemorative event in Boston. Though threatened by a mob, he did not flinch. During the Civil War, he was among a handful of highly effective Union Army recruiters highlighting the need and opportunity for Blacks to enlist. Downing and other private recruiters were key to filling musters in some states because unlike state workers they could cross state lines to meet enlistment quotas. Massachusetts Governor John Andrew offered George Downing a colonelcy in a colored militia; Downing refused unless the term "colored" was stricken from the unit's name. The governor acceded. For years, George emulated his father, encouraging education and doggedly campaigning to desegregate schools in Rhode Island. After nearly a decade of effort, his campaign ended in 1866—with success.
In February 1866, Downing, as head of the National Convention of Colored Men, led a group of distinguished personages, including Frederick Douglass, to meet with President Andrew Johnson to ask Johnson's support for Black suffrage and equal rights. In the grip of the puzzling notion that freed Blacks somehow were aligned with wealthy Whites against poor Whites, Johnson dismissed the requests. The petitioners used the encounter to highlight the hollowness of Johnson's stance on Black equality.
this article first appeared in American history magazine
Facebook @AmericanHistoryMag | Twitter @AmericanHistMag
In 1868, through his friendship with Charles Sumner, George Downing got the contract to run the U.S. Capitol cafeteria, widening and strengthening his contact with prominent politicians—and prompting the Ku Klux Klan to threaten him by letter.
The elder Downing quipped to the Providence Free Press in 1864 that in the 46 years he spent building his oyster business, he "gave my boys an education and they got out on Wall Street and caught the bad habits of white people. They would be politicians. It is not my fault but that of white people."
Over time oysters had faded as a path to prosperity. The window for Black success in that industry closed as shellfish beds were privatized, a mechanized dredging technique took hold, and a flood of industrial waste fouled New York City's waters. By 1927, pollution had gotten so bad that the local oyster trade was banned. The Downing children moved into other occupations. Son Philip became an inventor; his best-known creation is the U.S. Postal Service mailbox, unchanged from his original design.
George Thomas Downing died in 1903 in Newport, where Downing Street honors his 1854 donation to help buy land for Touro Park.
In an 1892 letter Frederick Douglass had written to his friend, "Our lives have been long in the land and we have both done something to leave the world better than we found it." Shortly before his death, George Downing was talking with churchmen. "I was a fighter as well as an urger," he told them, pointing to a picture of his father. "I owe it all to that man."
GET HISTORY 'S GREATEST TALES—RIGHT IN YOUR INBOX
Subscribe to our Historynet Now! newsletter for the best of the past, delivered every Wednesday.
Close
Thank you for subscribing!
Email
Submit