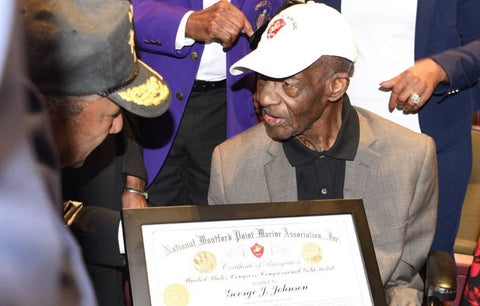 101-Year-Old Vet Receives Medal for Being One of the First Black Marines
Grace King didn't realize until a few years ago that her cousin, George J. Johnson, was a Marine veteran. And she didn't realize until January that he was part of the Montford Point Marines, the first Black men allowed to enlist in the Marine Corps.
Her mother and Johnson were cousins, technically making him her first cousin once removed. But they were close. He and his wife, Hannah, often would come down from New York to stay with her family in Fort Lauderdale, Florida, in the summer.
It was strange to her that Johnson, now 101, hadn't talked about being a Marine until recent years.
"George isn't a very modest person," King told Marine Corps Times. "He has that New York swagger."
In January, King saw a local ABC segment on the Montford Point Marines. That led her to connect with Mallorie Berger, whose grandfather was a Montford Point Marine and who has joined efforts to track down these Marines and their families.
On Feb. 6, Johnson was honored with a bronze replica of the Congressional Gold Medal honoring the first Black U.S. Marines, many of whom served in World War II.
The daughter of former Cpl. Moses Williams, another Montford Point Marine, also received a medal in her father's honor.
Pamela Y. Williams had long known that Moses Williams was a member of military police in the Marine Corps. But her father, a soft-spoken man, didn't talk about his experiences in the military. She had heard about Montford Point from a friend whose father also had served there, several decades after he died in 1970 at the age of 44.
Receiving the medal on her father's behalf left her feeling "overwhelmed and just very, very proud."
"I can only imagine what types of hardships they had to go through," Pamela Y. Williams said. "But I know that they had no idea that they were making history — which is exactly what they did."
Johnson, the other Montford Pointer honored on Feb. 6, now has failing health, according to King. It's hard to get details from him on his time as a member of military police — though he does sometimes mention transporting prisoners to Alcatraz — and he wasn't up for an interview with Marine Corps Times.
"When you mention Montford Point, he does light up," King said.
Leaders of the National Montford Point Marine Association and local politicians attended the ceremony honoring Johnson and Williams, as did the junior ROTC class from Dillard High, Johnson's alma mater, according to Berger.
"It's almost like (Johnson) was a star because everybody wanted to take a picture with him," King said.
Johnson found the ceremony, held at the African American Research Library and Cultural Center in Fort Lauderdale, Florida, "very moving," according to King.
"It's hard to believe. It's very incredible," Johnson told a local ABC affiliate. "Those that gave it to me and those who made it possible for me to have it."
King told Marine Corps Times that the presence of two other living Montford Pointers — former Cpl. George McIvory and former Sgt. Allen Williams — and of retired Army Maj. Gen. James W. Monroe, who knows both Johnson's and Williams' families, made the ceremony even more special for her cousin.
A trailblazing group of Marines
During the American Revolution, at least 13 of the 2,000 men in the Continental Marines, the forerunner to the Marine Corps, were Black, according to the National Museum of the Marine Corps. But beginning in the last decade of the 18th century, Black men were barred from serving in the Corps.
In June 1941, President Franklin D. Roosevelt signed an executive order opening all of the military services to Black men. The response from then- Commandant Maj. Gen. Thomas Holcomb was, "If it were a question of having a Marine Corps of 5,000 whites or 250,000 Negroes, I would rather the whites."
In 1942, following Roosevelt's order, the Marine Corps established a segregated post for Black Marines at Montford Point near Camp Lejeune, North Carolina. The men had to build the camp from the ground up, and they endured particularly harsh treatment.
By the time Montford Point closed in 1949 amid the desegregation of the military, approximately 20,000 men had served there. Around 2,000 of them saw combat in the 1945 Battle of Okinawa, Japan, alone.
In 2011, President Barack Obama signed a law authorizing a Congressional Gold Medal to be awarded collectively to all the Montford Point Marines.
"Despite being denied many basic rights, the Montford Point Marines committed to serve our country with selfless patriotism," Obama stated at the time.
To date, the National Montford Point Marine Association has awarded approximately 3,000 medal replicas to Montford Pointers or their families, according to Joe Geeter, a spokesman for the association.
But that's only a fraction of the Marines who served at Montford Point.
Part of the challenge is that there isn't a personnel log for these Marines. Only approximately 400 are still alive, according to Geeter. And, Berger said, it's common for Montford Point Marines not to tell their families about their service in the Corps.
"There was a lot of abuse that happened to them," she said. "So how do you come home and share those stories with your family that were abused, outside of the rigors of boot camp?"
Berger said she believes many of the Montford Point Marines developed what would now be called post-traumatic stress from their service.
For her part, she didn't know that her grandfather, former Pvt. Maurice L. Burns Sr., was part of the Montford Point Marines until 2021 — long after his death in 1996. She happened upon an article about Montford Point online, and that prompted her to look through a box of papers she had found when she cleared out her grandmother's house years ago.
There was her grandfather's discharge paperwork, along with a letter he had written to his former assistant drill instructor asking for his help in getting the Veterans Administration to compensate him for his serious service- related back pain.
Berger has since worked to raise awareness about Montford Point and to find those who served there and their families.
"Unwittingly and unknowingly, they were civil right activists," Berger said.
If you believe you or a loved one deserves recognition for serving as a Montford Point Marine, contact the National Montford Point Marine Association by emailing Info@montfordpointmarines.org or one of the regional contacts listed on its website . Include your full name, mailing address and phone number; if you are reaching out on behalf of a Montford Pointer, also include his full name.
---
Originally published by Military Times, our sister publication.