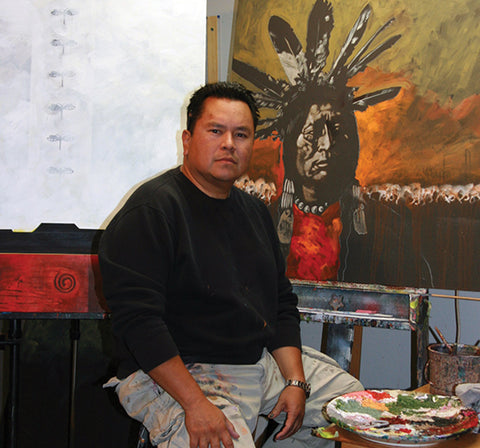 10 Top Living Western Artists… Picked by Wild West Magazine
Johnny D. Boggs, Art of the West columnist for Wild West magazine, picks his top 10 favorite living Western artists.
Bob Boze Bell
Bob Boze Bell
The longtime editor of True West magazine has authored and illustrated biographies of such iconic Westerners as Billy the Kid, Wyatt Earp, Wild Bill Hickok and Doc Holliday. Bell is a gifted artist known for his surreal gouache paintings. "I'm just a cartoonist," he says, "with strong opinions."
---
Nocona Burgess
Nocona Burgess
Immensely proud of his heritage, this great-great-grandson of Quanah Parker, the last Comanche war chief, is known for his bold acrylic paintings of Indian figures and culture and has moved into sculpture. "My dad always said, 'Every morning when I wake up, I thank God I'm a Comanche,'" the artist recalls.
---
Curtis Fort
Curtis Fort
Born and raised on a working ranch in New Mexico, Fort might be as close to a modern-day Charles M. Russell as we'll find, right down to his realistic bronze sculptures and cowboy drawl. Most of his works elicit a smile.
---
Dennis Hogan
An Indiana native, Gunsmoke fan and excellent worker of leather, silver and turquoise, Santa Fe–based Hogan pays homage to the past with a contemporary spin.
---
Douglas Magnus
Another Santa Fe–based silversmith, he creates high-end jewelry with a modern look and designs that evoke the past. In his "spare time" he dabbles as a photographer, videographer, plein air painter, etc.
---
Deana McGuffin
Deana McGuffin
Those who don't consider boot making an art form have never seen a pair of cowboy boots made by this Albuquerque legend who followed a path her grandfather forged in Roswell back in 1917. McGuffin will soon "retire" to try her hand at leatherwork and woodwork.
---
Barbara Meikle
Barbara Meikle
Painter and sculptor Meikle is particularly drawn to that underappreciated hero of the American Southwest the donkey. Rife with humor, her oils and bronzes also capture horses, Western wildlife and landscapes. She donates part of her earnings to equine rescue efforts and animal shelters.
---
Thom Ross
Thom Ross
This quirky and highly opinionated San Francisco native loves the West, baseball and literature, not necessarily in that order. His offbeat interpretations of iconic Western figures challenge viewers. Ross' most recent project tackles Herman Melville's Moby-Dick.
---
Billy Schenck
After working with Andy Warhol in the mid-1960s, Schenck broke into the Contemporary Western/Southwestern Pop art scene with bold paintings inspired by late 1960s/early 1970s Spaghetti Westerns. He can hold forth about Western films for hours.
---
Don Yena
This Navy vet goes all out to get everything just right in his paintings. "I think the actual story of the American West is so fascinating," he says from his studio in San Antonio, Texas. "I think it's more exciting than fiction."
---
this article first appeared in wild west magazine